When you are planning to customize your kayak or and looking forward to an awesome fishing experience, kayak rod holders are the first thing that comes to every paddler's mind. In fact, rod holders are the main accessory on a kayak that sets it apart from another ordinary kayak on the line. So, if you are hunting for the best fishing kayak rod holders or ordinary kayak rod holders, then you have come to the right place.
Today, in this blog post, I will take you through not 1 but 29 uniquely designed rod holders for a kayak that will convert your ordinary kayak into a fishing machine.
This blog post is going to be in the guide format, so sit back, take a cup of coffee or hot tea, set back and enjoy reading the post.
Best Rod Holders For Kayak
If you seriously want to convert your ordinary kayak into a fishing beast, the Railblaza rod holder R for a kayak is here for you. This is a 360-degree rod holder that can be used for baitcasting, spinning, fly fishing, fly reels and many other fishing experiences. This is a combination of 4-rod holders and 4 TracLoader SidePort mounts.
It is compatible with all kinds of kayak and suitable for freshwater and inshore fishing experience. Although it is not suitable for trolling large size fish, it is fully adjustable and turns around 360 degrees and 90 degrees vertical to give you a hands-free fishing experience.
Along with this kayak rod holder comes a TracLoader SidePort that will allow you to install accessories on the 90-degree gunnel tracks of fishing kayaks and boats.
The key USP of this rod holder is that it is easy to use and suitable for a diverse range of situations. Also, the parts of these rod holders are made from high-quality materials that give them extra strengh and durability.
Pros
360-degree turnaround
Easy access to reel
Fully adjustable
Comes with a Tracloader side port
Desinged to hold a fishing rod and fly reels
If you are looking for tri kayak rod holders, this is it. Scotty 256 is a lock rod holder and post bracket. It is fully adjustable and comes with a lure and accessory rack that gives you quick access to all your fishing tools and gears. With this rod holder, you can surely take your fishing to the next level.
It is made from fibre and nylon material that makes it super-duper tough and highly durable. It won't break down even in the toughest condition. You can also rotate this rod holder 360 degrees and try fishing for any direction at your convenience.
This rod holder is being used by fishermen, marine lovers, and outdoor industries worldwide. So, you can completely trust it. It is 100% compatible with kayaks, boats, stand up paddleboards and belly boats as well.
Another good thing about this rod holder is that it can be repositioned side to side and up to down to give you enough flexibility and adjustment options.
Pros
Power lock rod holder
Fully adjustable
Gives quick access to tools
Made from fiber
Solid construction 
Cons
Heavy movement 
Not that stable
Scotty is known as the worlds best rod holders manufacturer in the world. That's why I am another rod holder for kayaks by Scotty brand that is versatile and gives many mounting options. This piece also has one of the fastest rod release times as compared to others in the market. It is made with fiber and nylon material just like other Scotty rod holders that offer good strength, durability and reliability.
It gives multiple adjustment options vertically as well as horizontally. You can also use it with any kayak, fishing boats, fishing belly boats and paddleboard as well, provided that all are compatible for fishing.
With this kayak rod holder, with one quick motion, you can easily lift up your tool or gear straight out into the fish fighting position resulting in fewer missed strike opportunities.
It comes along with Side/Deck Mount. In case, you want to use a lockdown mounting system, you can choose any suitable direction for fishing and insert the rod holder accessory straight into the mount.
Pros
Fastest rod release
Fiber material
Adjustable with multiple positions
Quick motion
4 Orca rod holders
Looking just for a single rod holder for a kayak? Scotty #282 has got your back. This is a rod holder desinged for any anger. It is simple and easy to set up, and beginners, as well as newbie paddlers, can use it. It comes along with a Scotty 438 gear head track adapter that quickly gets adjusted into the slide of your kayak and holders the Scotty 282-rod holder with a stunning grip.
The 438 Gear-Head Track Adapter will also allow you the change the direction of the rod holder easily with a simple twist and turn.
You can also move rod holders forward and backward direction for a better fishing experience. Another good thing is that the fixed mounts have a very low profile and won't bother you much while using the rod holders. On top of that, this rod holder can make an 8-inch rail if you want more options for mounting or want to carry multiple fishing tools with you.
Overall this is a great kayak rod holder and will surely take your fishing to the level of awesomeness.
Pros
Very versatile
Locks down
Can be secured with a latching strap
Coms with a gearhead
Can change position
If you are running tight on the budget and looking for a cheap and top-rated kayak rod holder with quick-release time, Scotty 400BK has got your back. This is fibre made rod holder that gives you quick motion and multiple adjustment positions as per your needs.
The key features of this kayak includes: slide or deck mounting bracket that comes with a lockdown feature, the rod holder easily tilts up and down as well as forward and back. You can also change the direction of the rod holder as per your wish.
On top of that, the deck mount of the rod holder has a push button to release your gear from the mount. The new deck mount with Scotty is much better and comes with additional features that many other rod holders are lacking.
Pros
Locking push button
Single quick motion
Multiple fishing positions
Easily adjustable
Fibre-reinforced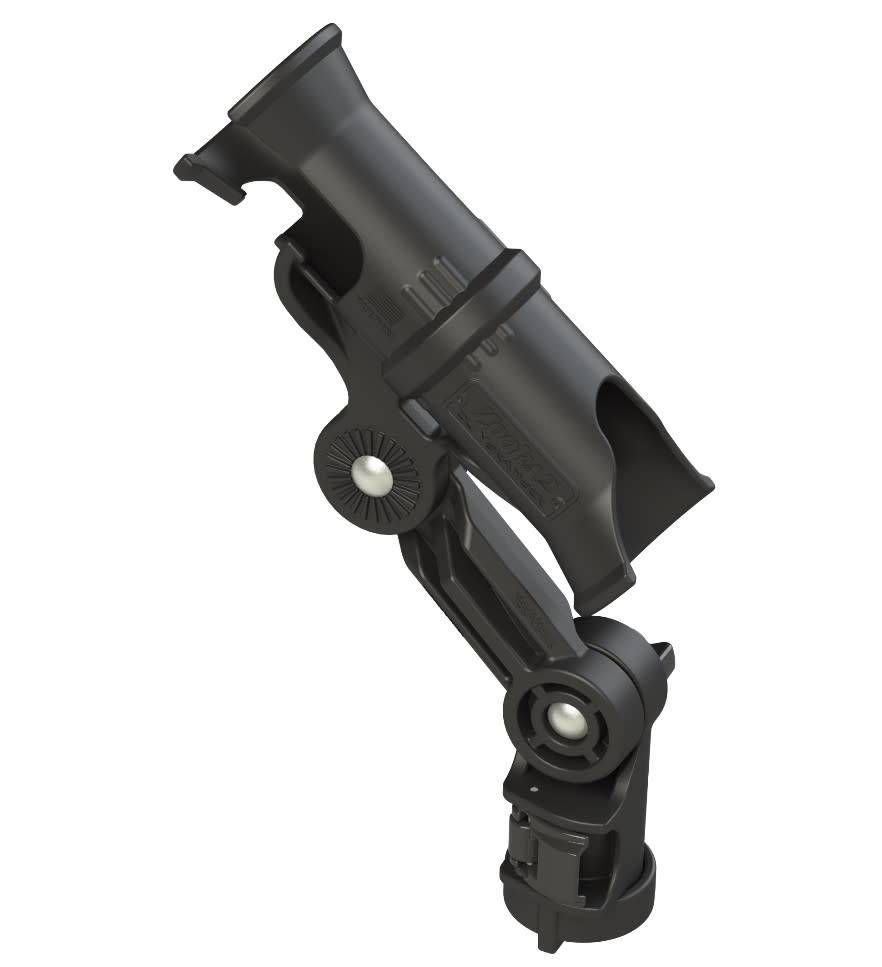 If you are looking for a kayak rod holder that has got all the features, then YakAttack Zooka II Rod Holder w/ 4 2022 has got your back. Most paddlers and anglers across the globe consider this rod holder as the most versatile and secure fishing rod holder that is ever created.
Its intuitive design, ease to use, multiple adjustments and turning position make it apart from others. It is solely made for spinning reels and casting reels and secures them in a unique way with no moving parts.
Once you place your casting reel or fishing rod in this Zooka ||, it will hold it with tight stiffness and also allow for quick removal. Plus, the multiple perfect rod placement locks both spinning and casting rods/reels into place for security.
Pros
Easy to use
Multiple adjustment positions
Good stiffness
Locking technology
Compatible with all kayaks
Let me introduce to you a robust, versatile, and value for money kayak rod holder that will allow you to hold your fishing tools and gears in the position you choose.
The mounting part of this rod holder works great with any fishing kayak. It is very sturdy and works adequately well. The locker lever is slightly difficult to shift but gets easy after a few usages.
You can simply install this rod holder anywhere on your kayak or boat. Another key USP of this piece is that it comes along with stainless steel hardware you need for mounting.
Pros
Lock system
Fully adjustable
Stainless steel mounting accessories
Now here comes the big daddy of all the fishing rod holders for a kayak. This rod holder is specially desinged to keep your spinning bait caster, fly rod, spincaster and other fishing gears and tools. It features a stainless steel lock-up bar that you can open and get quick and smooth release of your rod and other tools.
Also, it is less bulky as compared to other kayaks rod holders and one can easily carry it from one spot to another. It holds the rod so tightly that even a big fish cant cause the holder rod to bounce and come out.
To put it in a nutshell, it's a good product to affordable pricing cost.
Pros
Easy to adjust
Multiple positions
Built to last
Holds tightly
Backed by 4 long spline posts and bulkheads, the RAM-ROD Light-Speed Rod Holder with Base is next on this list. Desinged for modern-day paddlers and anglers, this rod holder can mount vertically as well as horizontally in your kayak for the boat. You can also rotate it 360-degrees and tilt the rod holder forward or backwards to create an optimized fishing angle.
As this is a modern-day rod holder, it is best suited for spinning reels and casting reels. It will give you quick access to your fishing tools and accessories while inserting or removing them. This rod holder with bulkhead and flat surface mount can be installed on a deck or on the vertical surface of the kayak.
Pros
Smart and flexible
Compatible with all kayaks
Easy to use
Made with durable materials
Easy to turn and rotate
This rod holder for a kayak is unlike anything you have seen before. It is smart, agile, flexible and easy to use and goes beyond expectation when it comes to its performance. Made with high strength composite material, this rod holder is compatible with all the kayaks, boats, paddleboards and belly boats as well.
To give you the best fishing experience, this rod holder is backed by a ratchet arm with a single open socket and 2.5″ diameter round base that contains the universal AMPS hole pattern and a 1.5″ ball.
With the help of a rubber ball, socket and ratcheting feature, you can rotate or turn this kayak rod holder 360-degrees and move it forward and backwards without any hesitations.
Pros
Adjustable in any position
Comes with a round base
Can be tilted
Suitable for all kayaks
Made with durable material
Cons
Mounting hardware not included
If you are looking for the best rod holders for fly fishing, RAM-ROD has got your back. This rod holder is desinged to take your fishing next level and help you with big catches. It will stick like glue on your kayak and will not hinder you when you are paddling.
This rod holder is surely one of a kind and features a patented ball and socket feature for perfect adjustment so that you can take out your fishing gears and tool faster. When it comes to price, form, function, this is the most affordable, flexible and jam-packed with a feature kayak rod holder.
Pros
Quick response
Includes 1.5″ ball mount
Responsive design
Comfortable height
This is the most popular and value for money kayak rod holder by Scotty. It comes with key attributes like a positive locking system, affordable pricing, and an open style system. It's a universal rod holder and compatible with any kayak and can hold any rod or reel setup with a front locking ring to prevent rods while losing.
Made with fibre reinforced engineering grade nylon, the Power Lock offers strength, stability and durability. It is built to last with an average life span of 5-8 years.
That's more than enough for a rod holder, right?
Last but not the least, this rod holder is multi-functional in nature and can be used for a wide range of large/medium or small fish species and virtually any watercraft.
Pros
Affordable
Fiber made
Great durability
Locking system
Cons
Does not come with the amount
It's hard to find a kayak rod holder made with heavy-duty materials. But I have got one for you. The Attwood Kayak Flush Mount Rod Holder is a perfect combination of economical pricing, easy to control and adjustability. It is suitable for baitcasting and spinning reels.
It features an ergonomic design and a quick-release latch so that you can pull and attach your fishings rod and tools in quick time. Also, it is made on of the top kayak and boat accessories making company Attwood Corporation that is an award-winning company and leader in making marine tools and products.
So, get your hands on this kayak rod holder and get ready to hun for the big catches of your life.
Pros
Designed for baitcasting and spinning reels
Ergonomic design 
Heavy-duty construction
Easy to find and use  
Adjustable
Flush mount design
Low profile
If you want to enjoy a relaxing fishing experience then you need a kayak holder that is smooth, agile, flexible and can be used for bait casting and spinning reels. Luckily, the BroCraft kayak rod holder has got all these attributes in it.
It features a smooth and subtle design with quick-release latches. Plus, it is made with heavy-duty materials that make it strong, tough, durable and high performance for any kind of abrasion and tough condition.
The game-changing feature of this kayak rod holder is its large, easy to grip lock nut offers 180 degrees range of vertical adjustment for a variety of tip height settings.
Pros
Small and subtle
Stunning design
Durable and strong
Easy to use
This kayak rod holder is for those who love getting big catches. It is a high impact and corrosion resistance kayak rod holder made with ABS plastic and stainless steel metal material which makes it impact resistant. It is strong enough to hold your big catch even for hours on the water.
Depending upon the size of your kayak or boat, this rod holder can rotate to 360 degrees and adjust up, down, back and front easily, so that you can get the best fishing angle and catch of a lifetime.
There's also an adjustable lock in front of the holder that is helpful to place and fix the fishing rod.
Pros
360-degree rotation
Easy to use
Flexible 
Hard design
Multiple purpose rod holder
Cons
Lacks advanced fishing features
When it comes to the best fishing rod holders for kayaks, how can we forget about plastic flush mount rod holders? They are considered to be one of the most lightweight and durable rod holders in the market today.
So, if you are looking for something like that, this is it. Made with PC+ ABS Polyurethane material, this kayak + canoe holder comes with a rubber gasket cap and features a sealed bottom to prevent leaking through the rod holder.
Although it lacks certain advanced features like the above-listed products, it is 100% high in quality and made with durable material.
Pros
Lightweight
Easy to use
Durable
Compatible
Cons
Lacks advanced fishing features
This 2 set of kayak rod holders is just made for you if you are looking for an awesome fishing experience on fast-moving rivers, seas and oceans. This is adjustable plus a high stable rod holder will keep your fishing gears and tool stiff, stable and with a strong grip.
Even if you are planning to get the big catches, this rod holder won't move or hinder your big catch. Plus, this kayak is 360-degree adjustable in nature and you can easily set it on your kayak or boat the way you want.
Pros
Made with durable material
Fully adjustable
360-degree adjustment
Cheap and affordable
Cons
Lacks advanced fishing features
The Harmony RAM Fly fishing rod holder gets easily fit near your cockpit area of the kayak so that you can always be in close contact with your fishing gear and tools. It is a simple and secure rod holder desinged at a comfortable height and gives you quick access to you can strike on your catch much faster.
It is designed with lightweight material and won't trouble the stability of your kayak or boat. Also, its cradle design keeps the grip of your tool within quick reach and offers ample clearance options. Plus, its ball and socket will allow you to move the rod holder in any direction.
Pros
Made with tough material
360-degree adjustable
Compatible with all kayaks
Cradle design
A single yet powerful kayak rod holder with 3 with three-position adjustments. It is compatible for baitcasting or spinning rod tools. It is backed by spring-loaded tension that allows for quick and hassle-free rod management and adjustment. Yes, is 360-degree in nature and you can also turn it in any direction you want.
Among the features of this rod holder are side or top mount, suitable for any fishing gear or tool and built to any kayak or boat.
Pros
Easy to carry
Lightweight
Good stiffness
Amazing grip
Small and subtle
Your search for the most advanced and loaded with feature kayak rod holder ends with Bass Pro Shops Quick Draw rod holder. This rod holder has won the hearts of many paddlers across the globe and still, it is selling like hotcakes.
This rod can carry any fishing tool of yours and give you the best experience ever. It is made with durable material that not only gives good life to the rod holder but also gives you a good grip while holding it.
It comes along with all the necessary features like locking system 360-degree adjustment, vertical and horizontal adjustment and a lot more.
Pros
Gives good grip
Highly durable
UV and abrasion-resistant
Easy to use 
Lightweight
Ending this blog post with yet another top-rated fishing kayak rod holder that is worth buying in 2022. Backed with a stunning design and matt black color, this rod holder has got all the features that make it the best buy for 2022 and beyond.
Its smooth and efficient ball bearing allows you to change its position and direction at ease. You can easily catch your dream fish with this rod holder without worrying the weight of the fish.
Since it is made with durable material, it can easily handle the weight of large and medium-size fish as well.
Pros
Light weight
Durable 
Built to last
Good holding capaicty
Easy to use